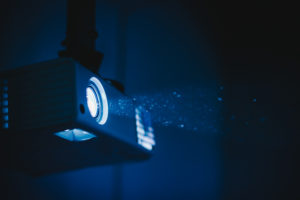 Today I want to talk about everyones favorite stat when talking about video projectors.  The ANSI Lumen.
There seems to be some misunderstanding and just plain guessing on how bright your new projector should be.  I have had clients say "our current projector is 3,000 ANSI lumens and isn't bright enough so I think we should go to a 6,000 lumen projector."  But, how do you know that 6,000 lumens will be bright enough, or maybe a 4,500 lumen projector would have been bright enough.
Knowing the lumens a projector has is a good start to knowing how bright your projector will be.  And with lumens the more the merrier.  However the more lumens you have the less your bank account will have.
But knowing the lumens is only half of the equation.  Your screen size is the other half.
We need to know how many lumens there will be per square foot of screen.  Also know as Foot-Lamberts.
A Foot-Lambert (FL) is a measurement of how many lumens per square foot of screen.  The larger the screen the less FL's you will have.  The smaller the screen the more FL's you will have.
It's a simple formula to figure out the Foot-Lamberts
FL's=ANSI Lumens/ sq/ft of screen.
So if you have a 9×12 screen and a 5,000 lumens projector how many FL's will I have?
FL's=5000 lumens/ 108 sq/ft screen
You will have just over 46 FL's
To give you a reference
The movie theatre industry standard for Foot-Lamberts is only 16.   But they turn all the lights down to show a movie.
If you have slight light spill on your screen you should shoot for 30-40 FL's.
A room with direct light on the screen you will need 40-60 FL's.
Your flat screen at home has around 100 FL's.
If your confused about what projector you need.  Don't just guess.  Your new projector purchase should be based on Foot-Lamberts not on Lumens alone.
Solid Rock Audio Video is here to help you know what projector is right for you.